The amount of construction equipment is mind-boggling, and the options can be paralyzing. But whether you're in the market for a backhoe or bulldozer, vital considerations will help you make the best purchase for your business.
Construction equipment is a significant investment. You have to consider the equipment's initial price and the associated cost of maintenance and repairs. You need to make sure that you're getting the most bang for your buck and that the equipment will last for years to come. So here are a few things to remember when making your purchase.
The purpose of the equipment
When purchasing construction equipment, consider the purpose for which the equipment will be used. For example, if you are looking for an excavator, will it be mainly used for digging trenches or lifting and moving heavy objects? Once you have determined the primary purpose of the equipment, you can then begin to narrow down your options. Excavators come in a variety of sizes and configurations, so it is vital to select one that is best suited for the intended task. With a bit of research, you can find the perfect piece of construction equipment for your project.
The size of the equipment
When it comes to construction equipment, size is an important consideration. The right piece of equipment should be able to handle the job at hand while also being able to maneuver in tight spaces. For example, a small Bobcat might be perfect for clearing a residential l. Still, it would be quickly overwhelmed if asked to do the same job on a commercial construction site. Conversely, a large excavator might be able to handle the heavy-duty work required on a construction site, but it would be impractical for use in a residential setting. As such, you must carefully consider the construction equipment size before making a purchase.
Your budget
The cost of construction equipment can vary widely, so set a budget before beginning your search. Once you have determined how much you are willing to spend, you can start narrowing down your options.
Fortunately, finding out the prices for machines is easier than ever. For instance, you can look up track loaders for sale online and get a good idea of the average cost. With a little bit of research, you can find construction equipment that fits both your needs and your budget.
Maintenance and repairs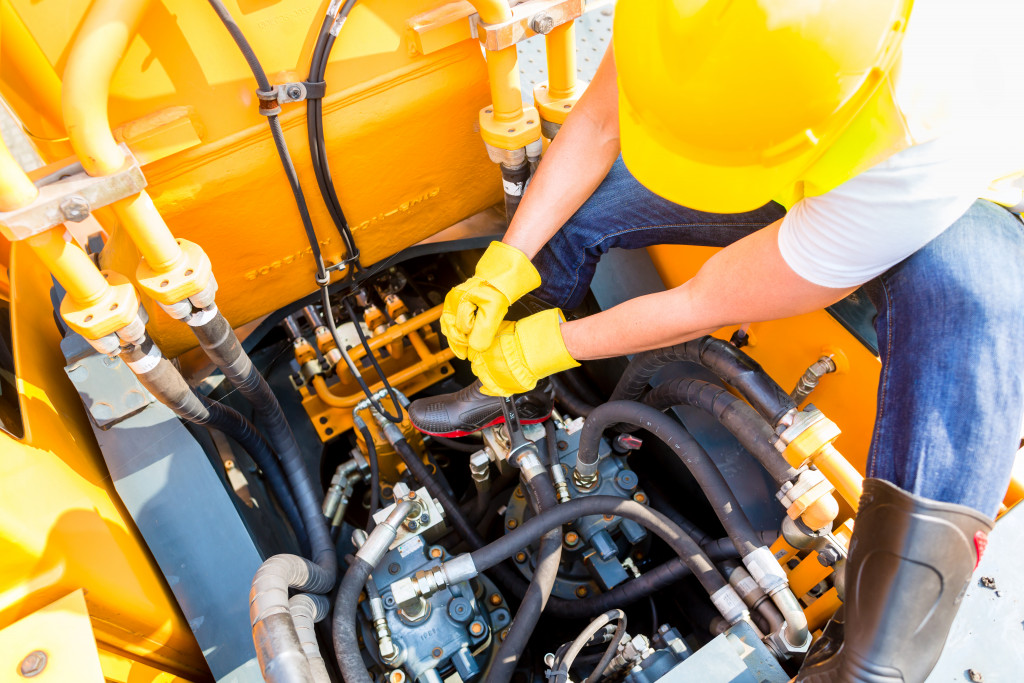 Even the best-made machines will eventually need some work, so it's essential to factor that cost of maintenance and repairs into your budget. You can research the average cost of repairs for the equipment you are considering and use that information to help you make your decision. It is usually cheaper to repair an existing piece of equipment than to purchase a new one.
To ensure that your equipment is in good hands, you can also invest in a service contract. A service contract gives you peace of mind knowing that your equipment will be appropriately cared for and that any repairs will be made promptly.
Warranties
Warranties are essential in any kind of purchase. They provide peace of mind, knowing that if something goes wrong with your purchase, you will be covered. Many manufacturers offer significant warranty coverage on their products, so be sure to ask about what is available. Some companies even offer extended warranties for an additional cost. While warranties are not always necessary, they can be beneficial if something goes wrong with your equipment. When considering a purchase, ask about the warranty coverage and decide if it is correct.
Ease of use
One of the most important factors to consider before buying equipment is the ease of use. After all, the goal is to make your work easier, not more difficult. Fortunately, there are a few things you can keep in mind that will help you choose the most user-friendly options. First, consider the size and weight of the equipment. If it's too heavy or bulky, it will be challenging to maneuver, leading to accidents. Second, take a look at the controls. They should be clearly labeled and easy to operate. Finally, think about the assembly process. If it's complicated or time-consuming, it will only add to your stress levels.
The bottom line
Your construction firm is only as good as the equipment you use. As such, you must take your time when choosing the right machines for your business. Be sure to keep the above factors in mind during your search, and you're sure to find the perfect piece of equipment for your needs.