The world is growing and, with it, the need for efficient housing. More than population growth, it's been observed that the millennial generation is leaning more toward renting than buying homes and because about 75 million members of the Baby Boomer generation are on their way to retirement. These last two reasons alone might explain why condominium and multifamily housing are continuing to flourish.
The current COVID-19 pandemic is far-reaching. The advances in technology are still as rapid as ever. The "new normal" forced upon us by the coronavirus undoubtedly requires real estate developers and investors to pick up the pace and add real value to condo and apartment living. Fortunately, new technology is enabling them to do just so. Pandemic notwithstanding, the value-adds in modern multifamily housing could (and should, hopefully) be an indication of better housing amenities for future generations.
How Condo Developers Can Improve Quality of Life for Their Residents
More and more people are figuring out what matters most now and down the line. Quarantines and isolation tend to make people realize the value of health, safety, and convenient living. Fortunately, condo and real estate developers are quick to pick up on this.
Besides adding more child-friendly, open, and common spaces, some condo or apartment complexes have taken to adding on-site licensed daycare and preschool facilities. Others have even taken this to full speed and are offering in-house movie theaters (with popcorn service, no less) or golf and racing simulators.
The current pandemic has employers setting up many work-at-home options, and both real estate investors and financial experts anticipate that remote work will likely extend even beyond the pandemic. If in the past proximity to work and access to transportation were leading elements of what was considered as "good location," there now is a shift to highlighting a housing development's proximity to green space such as parks and bike trails or easy access to essential hubs such as pharmacies, grocery stores, and food providers.
Space utilization is now also being reconsidered. Residents may now be holding spacious kitchens and living rooms at a high premium because staying at home means more cooking, remote work, indoor recreation, or perhaps even baking as a small home business. Two-bedroom units may now be marketed as a one-bedroom with provision for a home office, a gym, or a studio.
It is hard enough to find multifamily living spaces that will allow pets, but a community that considers the wellness of pets is a huge plus. For pet parents, a condo or apartment community that includes pet-friendly amenities, such as pet wash and dry rooms, can be a real deciding factor. Some apartment complexes even go so far as opening pet spas.
Adding Value to Multifamily Housing in the Pandemic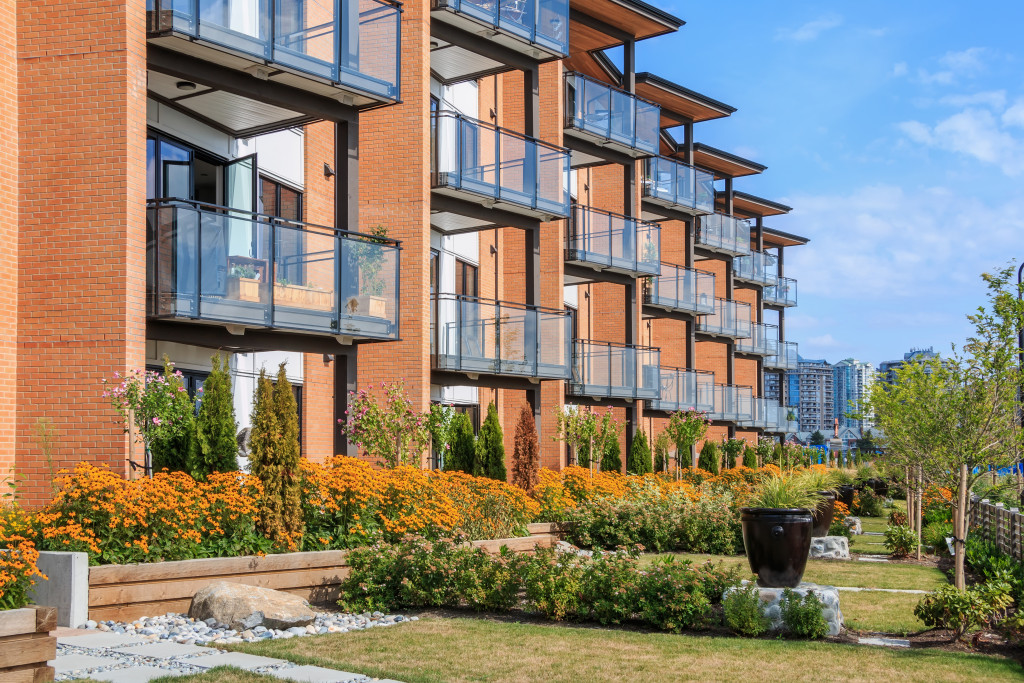 Multifamily residential communities, besides responding to the pandemic, are likewise adapting to residents' evolving demands and improving standards. Aside from the typical amenities like on-site gyms, pools, and lounges, there is a shift to other specialized amenities such as adaptable spaces, touchless elevators, in-built washers, natural lighting, provisions for high-speed wireless internet, personal outdoor spaces (balconies and terraces), and all sorts of smart, contact-less devices.
Several multifamily residential developments are attracting more and more buyers with pandemic-driven innovations such as UV disinfectant lamps, anti-bacterial tabletops, air purifiers for the home and the building, built-in soap or disinfectant dispensers, etc.  Wellness services and spaces such as in-home spa services and segmented meditation rooms are also being adopted with the need to curtail congregation in the usual common gym, pool, or resident lounges.
Real estate buyers will look at an apartment complex's cleanliness and availability of maintenance services. The responsiveness of maintenance staff will now need to be at max, and the access to common recreational or co-working spaces will need to allow for social distancing while maintaining the efficiency of the space. Now is the best time to really invest in improving routine maintenance and repair service levels, whether with fortified staffing or with automation that will streamline the labor.
One of the ultimate draws of the multifamily housing industry is its adaptability, convenience, and the opportunities to exercise personal choice. As everyone witnesses a definitive turning point in societies and economies around the world, real estate development rightly evolves with it all. For both developers and residents, communication with property management is now at its most crucial. These improvements in condo or apartment living make survival through the pandemic possible and bode well for the future of real estate development and investment as a whole.