You can create a phenomenal enterprise, but it won't thrive until you hire exceptional employees. Indeed, the world's most successful businesses credit their achievement to their ability to recruit and keep outstanding personnel. But how can you ensure that your A team stays with you for years to come?
Every management face challenge to keep workers engaged, but exceptional leaders understand that job satisfaction is critical to overall accomplishment. While there is no one-size-fits-all solution for keeping your workers committed and inspired on the days ahead, there are few unique and efficient methods that can significantly impact workplace performance and productivity.
Here are some strategies to incorporate into your company that will surely keep your employees happy:
Become an Effective Supervisor
Being a good leader is perhaps an obvious factor, but it's the one worth considering. How do you see yourself as a boss? Efficient management is an integral part in and of itself, which many entrepreneurs miss, particularly when they're just building their teams.
Spend time to learn effective ways how to manage and lead. Sure, the basics such as respect, sincerity, encouragement, and good communication are all important. But, also essential to train yourself on various management styles and techniques.
As a result, if your workers respect you and believe they are progressing under your direction, they will be more loyal.
Provide Clear and Attainable Goals
Your workers need clearly stated and actionable obligations to be satisfied with their job. What kinds of day-to-day activities and longer-term projects do you see them taking on and completing? What criteria will you use to evaluate their performance? Make an effort to connect with every one of your personnel as soon as your company starts its operations.
From there, you can explain your performance standards and expectations for the upcoming years. Listen to their requests and how these can help achieve your company goals.
Improve Workplace Environment
The setting in which individuals work has a significant impact on how much they like their employment. Nobody wants to spend hours upon hours in a dark, gloomy back office using outdated, clunky equipment. To address this need, make sure your workplace is appealing, well-lit, functional, and engaging.
As the business owner, you must ensure that you have the appropriate tools to allow workers to do their tasks as quickly as possible. If you have a physical store, this means updating everything that slows customers down, such as software and slow-moving systems.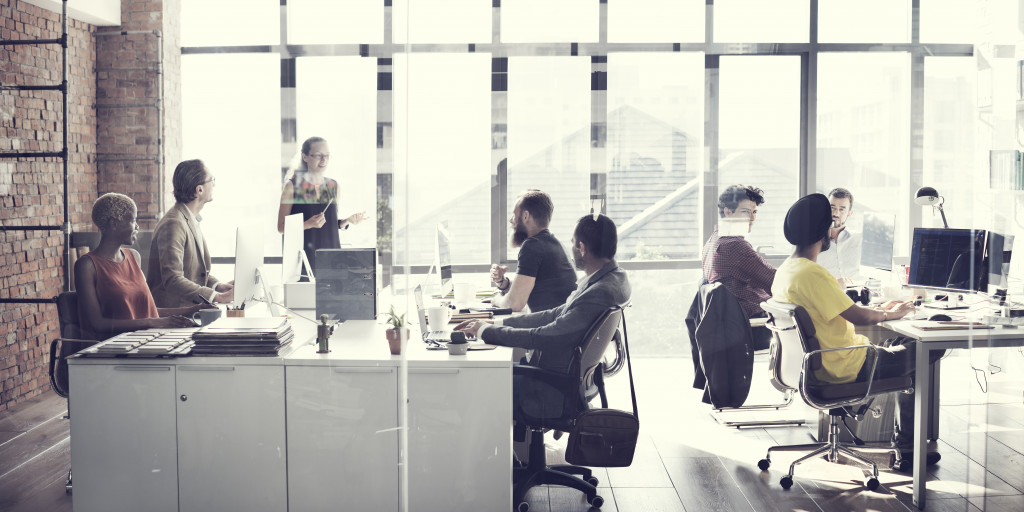 Then consider how you can improve your physical environment. It isn't necessary to spend a lot of money on this area. Consider displaying work by local artists or purchasing intriguing decorating items at a flea market. All of these little details will make your workers' jobs a lot more pleasant.
Reward your Employees
According to psychology, employees will stay with your company if they receive financial benefits in doing so. In that case, if you want to retain your top employees, you might consider implementing an incentive scheme.
Perhaps you could start awarding quarterly rewards to your high performers or create an incentive system that allows staff to gain a competitive advantage. And maybe you'll offer to pay for further training or certifications. Employees will be more inclined to perform a quality job and stay if they get compensation.
Organize Conferences for Mental Health
Mentally-driven employees are more satisfied with their jobs and tend to be more productive. They also have a reduced rate of employee turnover. An experienced business motivational speaker will assist your employees in increasing their productivity and performance.
These life coaches are independent of your company, which means they have the opportunity to connect their narrative with your staff and stimulate them to reach bigger goals. Your employees are likely to relate and be empowered through these conferences.
Encourage Team Building
Team bonding activities, such as beginning the day with a group session or arranging a monthly team activity, can help to build good employee connections. Focusing on ensuring that your workers are on good terms improves their willingness to communicate and, as a result, their ability to resolve problems without your help.
Investing in your Employees
Satisfied people are more competent. Ensure that your workers like going to work, and they will be more likely to work harder.
We tend to overlook the daily activities that keep our company running, and even easier to forget about the individuals that work hard to accomplish these duties. Following these principles will assist you in cultivating workplace enthusiasm and success in the long run.