Owning and maintaining a home is a huge responsibility. It needs enough attention and care to make it a safe place to live in with your family. Passionate homeowners are investing so much money in home improvements and repairs to enhance the appearance of their homes, avoid unexpected damages, and improve the level of comfort. Those with expansive yards put up outdoor living rooms with retractable patio awnings for weather protection and an outdoor living experience.
In areas that experience extremely hot seasons, maintenance should be part of the seasonal upkeep. Sadly, homeowners only come prepared during the winter and live easy in the rest of the seasons. While summer is a great time to relax and travel, your home also needs some summer TLC to keep it running smoothly throughout the hot summer months ahead.
Whether we like it or not, regular maintenance goes a long way in preventing catastrophes down the road. Summer is a time when our homes go through extreme conditions and appliances have to work overtime to function. In this case, a good maintenance project will not only eliminate inconveniences but also saves time, energy, and cash. In this article, we'll be giving summer maintenance tasks that can potentially save a lot of money!
Do a checkup on your air conditioner
Our AC systems work overtime during the summer, so it makes sense to prepare them before the scorching months arrive. Don't be like those people who have to wait before their air conditioners malfunction before calling in a professional. Just because the engine works fine doesn't mean a checkup is unnecessary. It's better to be more proactive on your appliances before waiting for an issue to happen.
Over time, filters build up in dirt and dust, such as pet fur, human hair, and skin cells. Experts strongly recommend to focus only on changing filters if you're not confident with your DIY skills. Otherwise, people with handy skills can try cleaning the condenser unit to prevent mildew, mold, and system issues. Clear the lines and let water flow from the pan under the condenser to drain out excess water.
The best thing to do is to call in a professional to clean the condenser unit. These pros can easily detect issues that can potentially turn into huge problems once the system gets mishandled.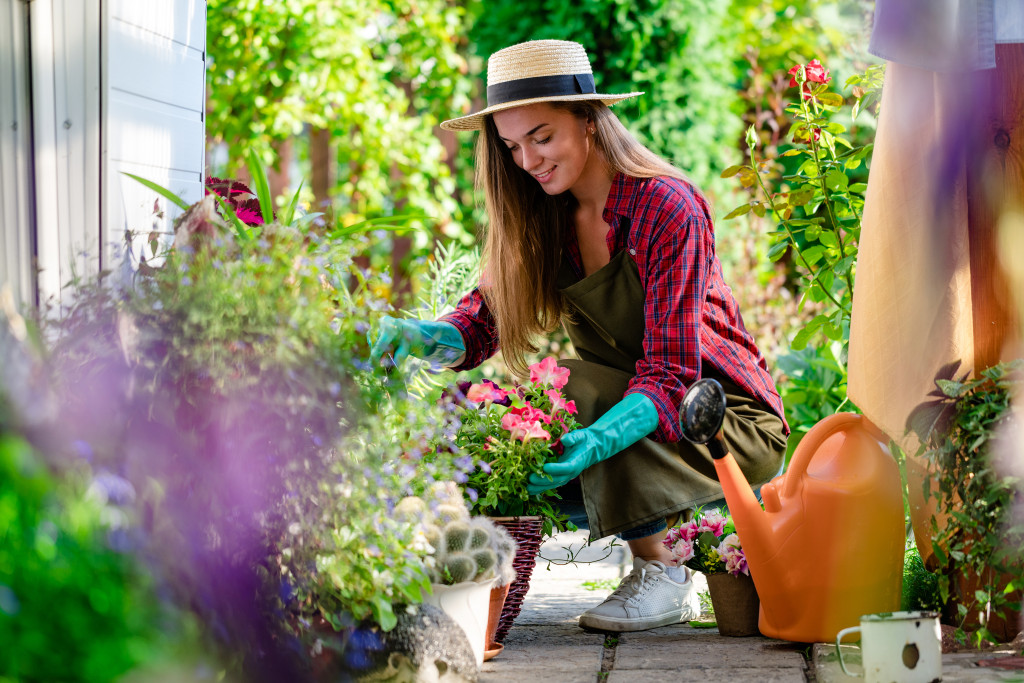 Spruce up the yard
Yard maintenance is not only done before a storm or winter comes up. It also needs some attention during the summer months. Check the landscaping for excess shrubs and overgrown trees, especially if the branches hang near the roof and foundation. Pests breed fast in hot weather and they use plants as bridges to reach your home and invade the kitchen. Trim those branches down to escape pests and give your home a well-kept appearance.
Use your free time to check and clean the siding. Check for sap, pollen, storm damage, and signs of wear and tear. Repair and clean the sidings as needed. Besides trimming excess foliage, you may also show some attention to your lawn. Pull out excess weeds and fertilize the grass to allow the circulation of nutrients, water, and air within the soil. Invest in special machines, rakes, and fertilizers to dethatch the lawn properly.
There are plenty of lawn fertilizers in the market today. You may need to be careful picking the right product to avoid killing the entire lawn. You may call in tree cutters or a professional arborist for the safe removal of trees without compromising the look of your yard.
Check the gutters and roof
Warm temperatures pave the way for unpredictable weather, which means storms are likely to damage your home. Monitor the roof and gutters to detect and avoid expensive damages. Debris easily builds up on your roof and gutter, which prevents water from flowing out during heavy rains. Thus, it's important to check for damages and clean the gutters after every storm.
If you're up for the task, invest in a ladder, spotter, cleaning supplies, and large garbage supplies. Having complete supplies will make the task easier and prevent the likelihood of accidents. Otherwise, it's best to leave the task to roofing professionals if you're unsure about the stability of the roof. Regular gutter cleaning starts from $100, depending on the severity of the issue, accessibility of the gutters, and the size of your home.
If the gutter needs some replacing, the cost range between $180 and $6,000, depending on the gutter material and home size. Opt for gutter guard installation to prevent a complete gutter replacement in the long run.
With proper maintenance, you can enjoy a whole summer feeling cool and relaxed without thinking about the dreaded summer repairs. This way, your home will continue to provide you with a decent shelter no matter how intense the season gets.