Similar to humans, dogs have emotions, too. And just like their physical health, their mental health should be given the same amount of attention and care. Many people don't realize that dogs experience trauma, abandonment issues, and even anxiety, just like people do. But because they have a different way of communicating and point of view, they cope differently. Therefore, can dogs suffer from mental health issues, too? The simple answer is yes. Whether it's a purebred Rottweiler or an F1b Bernedoodle, any dog can experience mental health issues.
Dogs don't have a way to vent their thoughts and share their burdens with you verbally, but they can signal the state of their well-being. It's up to the dog owner to pay close attention to their dog, especially after going through a major life change or event.
Common Causes of Depression in Dogs
Each dog is unique with its quirks and personality. Safe to say, they deal with adversity and change differently, too.
Major life-changing events such as having a new member in the family or having a new pet require a dog to adjust. Another example would be the pet owner getting a new job that requires them to leave the house every day. Both entail some shift in the family dynamic, which could mean that the dog will no longer receive as much attention as they once did. Other life events such as losing a loved one, moving to a new, unfamiliar place, or being re-homed can destabilize a dog.
Signs and Symptoms of Depression in Dogs
Like humans, dogs require a certain level of assurance and stability, just as much as they need love, comfort, and attention.  A dog's depression is not far off from that of humans. The dog will become withdrawn, less active, show little interest in things they usually love to do, experience a change in eating and sleeping habits, among other things. It's vital to remain emotionally attuned with your pet when something new and unfamiliar happens, especially during the loss of a loved one. Dogs can feel grief, too, as much and as deep as you.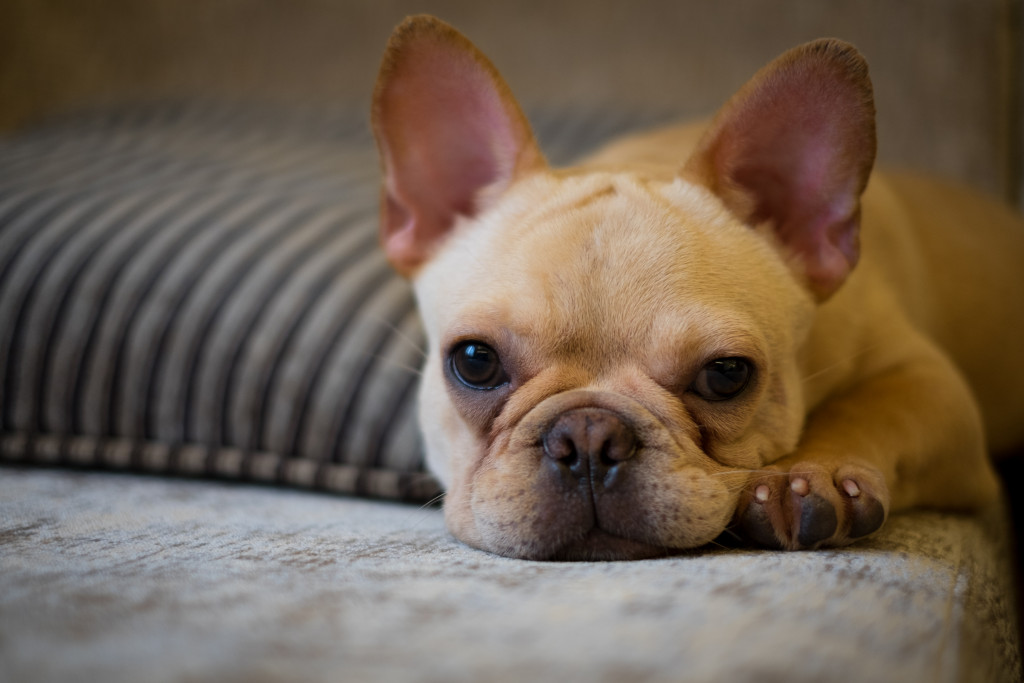 Treatment for Dog Depression
With love, attention, and emotional support, most dogs can bounce back from their depressive episode. Here are some ways dog owners can help their dogs come out of that dark place.
Engage in Fun Activities Together
Try fun activities together, like car rides, swimming, or hiking. On some days, it can even be as simple as playing with them and their favorite toy. They might not jump in right away, but they understand that you are giving them this attention. Keep engaging with them until they get around. This is a chance to bond with your dog, reminding them of the safety and warmth you're ready to offer them. This can help ease any anxieties they feel. Likewise, playtime with your dog can help reduce your stress, loneliness, and even mental health problems. It's important to be consistent about this and stick to the schedule. When they're ready, they might even interact with other dogs in the park.
However, it's important to note that over-coddling and too much attention can be counterproductive. Excessive attention and treats can even worsen their depression since these can reinforce the negative change. Every dog owner wants their dog to be resilient. It's important to shower love and affection in moderation.
Have a New Addition to Your Family
As mentioned, grief can cause depression in dogs. If this is a fur friend that they've lost, consider getting a new dog. This can help fill the void they feel. However, inviting a new member to your family requires another adjustment. This shouldn't be done with haste and should be done cautiously, considering the needs of your dog and the newly adopted one.
Consult Your Vet for Medication
While most dogs can bounce back, some need a little more help. Consult with your dog's vet for further advice and if medication is a viable option at this point. Similar to humans, anti-depressants for dogs or SSRIs include sertraline and paroxetine. There is also medication for separation anxiety in dogs. Discuss and explore options and treatment plans, especially when medication should be taken during a specific time.
Every dog has a different personality, set of preferences, and coping mechanisms. By paying close attention to your dog during their lowest points, you may be able to address the depression early on. For peace of mind, you can always contact your pet's vet and ask for professional advice.
The Bottom Line
Dogs can experience a broad spectrum of emotions, and that's probably what makes them empathetic creatures. They can experience joy and excitement, but they can experience grief and loneliness, too. Every fur parent should be emotionally attuned to their pet's emotional needs, just as much as their physical needs. This way, you won't just have a happy dog, but a physically and mentally healthy one, too.