Your home is your castle, and as such, you should do everything in your power to make it as beautiful as possible. One way to achieve this is by adding charm to its exterior. By investing in the right features, you can make your home the envy of the neighborhood.
Check out these ten tips for adding charm to your home's exterior!
1. Upgrade Your Front and Garage Door
Nothing adds elegance to a home-like heavy garage door and front entryway. These types of doors demand attention; they make an impression on anyone who walks by! Get a garage door installed that fits within any budget. The best part? They come in all different shapes, sizes, and colors.
2. Update The Landscape With New Plants and Flowers
Nothing says "home" quite like a beautiful garden. Whether you want to add to the one you already have or start a new one, make sure to add flowers and plants that match the architecture of your home. This can go a long way in adding charm and making your home more beautiful!
3. Add a Focal Point to Your Exterior with a Water Feature
Water features are all the rage right now, and for a good reason! No matter how big or small your space is, a water feature can be added. Maybe it's as simple as adding some plants around an outdoor fountain or something more extravagant like an above-ground pool surrounded by pavers. Whichever way you choose to go, adding a water feature is a great way to add charm!
4. Bring in the Right Amount of Light with
Lighting is an important part of any exterior design. Make sure that your home is as lit as possible with pathway lights leading to your front door, porch posts, and even outdoor wall lamps! The more light you have, the warmer and more inviting your home will feel.
5. Add Color to Your Home's Exterior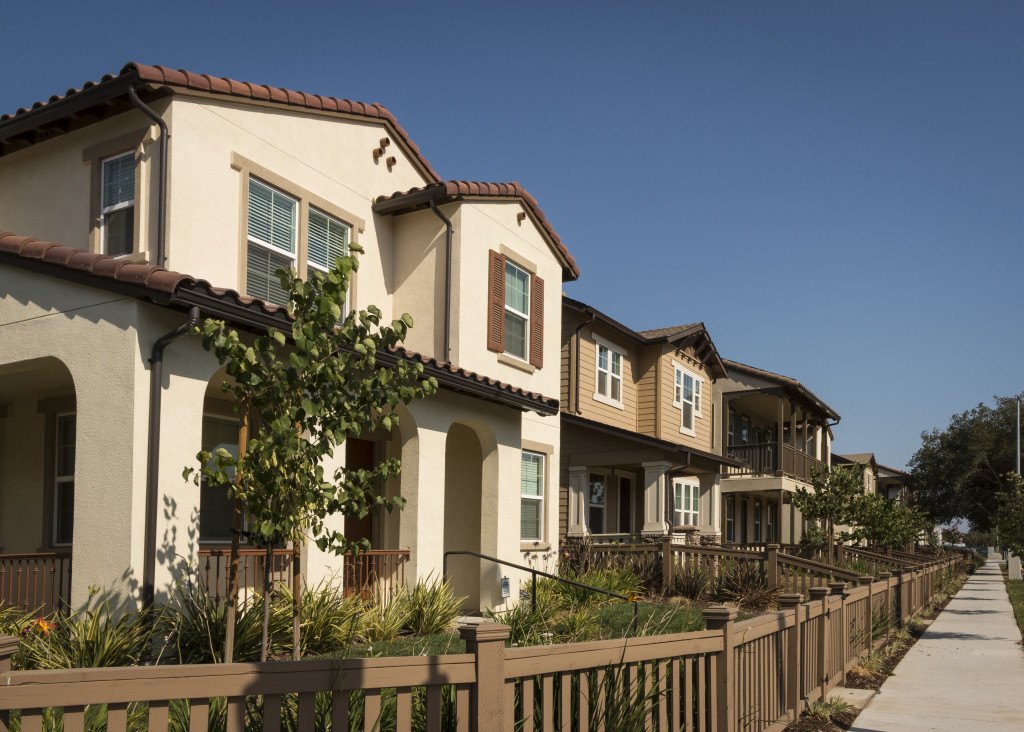 Not only is color a great way to add charm and bring attention to your home, but it's also a great way to convey your personality. Make sure that you choose the right kind of paint for your exterior walls and trim by choosing colors that suit your personal style! You can even add some pops of color with plants and flowers.
6. Display Your Love For Art on the Patio or Balcony
Nothing says "home" quite like a few well-placed pieces of art. As they say, it isn't a home without some paintings! Try adding paintings to your patio or balcony. You can even add some on the exterior of your garage doors! Just make sure that you find pieces of art that will compliment your home's exterior aesthetic.
7. Maximize Storage with Creative Outdoor Storage Solutions
Perhaps the least exciting part of having a functional outdoor space is all the storage solutions you have to consider! Make sure that wherever possible, you are utilizing all possible spaces for storage. This might include beneath your patio, in garden sheds, and more! Don't be afraid to think outside the box when it comes to maximizing storage in your outdoor spaces!
8. Integrate the Outdoors with Your Home's Interior
One of the best ways to add charm to your home's exterior while maximizing functionality is by integrating your outdoors with your home's interior. This can be achieved by adding open-concept patios, built-in barbecues, and more! The key here is maximizing all possible uses for your exterior spaces!
9. Make it Safe and Secure with Outdoor Security Solutions
No matter where you live, security is key. This doesn't just mean having locks on your doors and windows; it also means making sure your home's exterior looks safe and secure. Get outdoor motion-activated lights installed to illuminate dark areas of your exterior. You can also install outdoor security cameras to keep a watchful eye on your home's exterior.
10. Make Your Home a Destination with a Bespoke Driveway
Finally, driveway pavers are a must if you really want to make your home an inviting destination. They are perfect for adding charm to your exterior while also making sure that your home's parking situation is as functional as possible. No matter what kind of pavers you want to use to create your unique outdoor space, it's always a good idea to choose something that will fit in with your home's exterior aesthetics.
There are many easy and affordable ways to add charm to your home's exterior. By following the tips we've outlined in this article, you can create an inviting and beautiful space that will make you proud to call home!