A home is not just a roof over one's head but an asset that can be used to accumulate wealth. This is why real estate agents and brokers must be able to identify features that add value to a home. Adding value means making a home more attractive and desirable to potential buyers. Outdoor facilities, such as the ones listed below, create a unique draw for potential buyers.
An Outdoor Pool
A private pool in the backyard provides an excellent retreat during hot summer days. It also adds 7% value to the home as potential buyers would be willing to pay more for a house with a pool. If the property already has a pool, make sure it is regularly maintained. It would also help to update the pool into something more modern if you think that it would be attractive to buyers Here are some different types of pools that you can choose from:
Above-Ground Pools: More affordable and easier to construct.
In-Ground Pools: There are many types of inground pools, each with different materials. Common possibilities include concrete, fiberglass, and vinyl-liner varieties.
Infinity Pools: These are typically designed to show off a beautiful view and feature walls with a vanishing edge that sits just below the waterline. The water flows over the wall, giving the appearance of an infinite body of water.
It is still important to note that not all pools are created equal. To maximize its value-adding potential, the pool should be well-maintained with no cracks or leaks. Furthermore, the pool should have the necessary safety features, such as a fence and a self-locking gate. When trying to sell a property with a pool, make sure to highlight these features.
Outdoor Kitchen and Barbecue Area
Having an outdoor kitchen and barbecue area can be a great way to entertain guests while spending time outdoors. To increase your home's value, outdoor kitchens are a great option. Studies show that they generate a 55% return on investment. Additionally, many people look for houses with outdoor cooking space because it allows them to host parties and other gatherings in their backyard. These are also great for creating a cozy atmosphere for families.
Some of the features you should consider including in your outdoor kitchen and barbecue area are:
A Grill: Choose charcoal, gas, or electric grills, depending on preference.
Refrigerator/Freezer: To keep food and drinks cool while outdoors
Smoker/Smoker Box: To create that delicious, smoky flavor
Cabinets and Shelves: For extra storage space
Countertops: For cutting and prepping ingredients
Sink: Essential for washing hands and cleaning up after meals
When it comes to outdoor kitchen design, there are a lot of options to choose from. You can choose to go with a minimalist design or something more elaborate. Whatever you decide, ensure that the kitchen suits your needs and budget.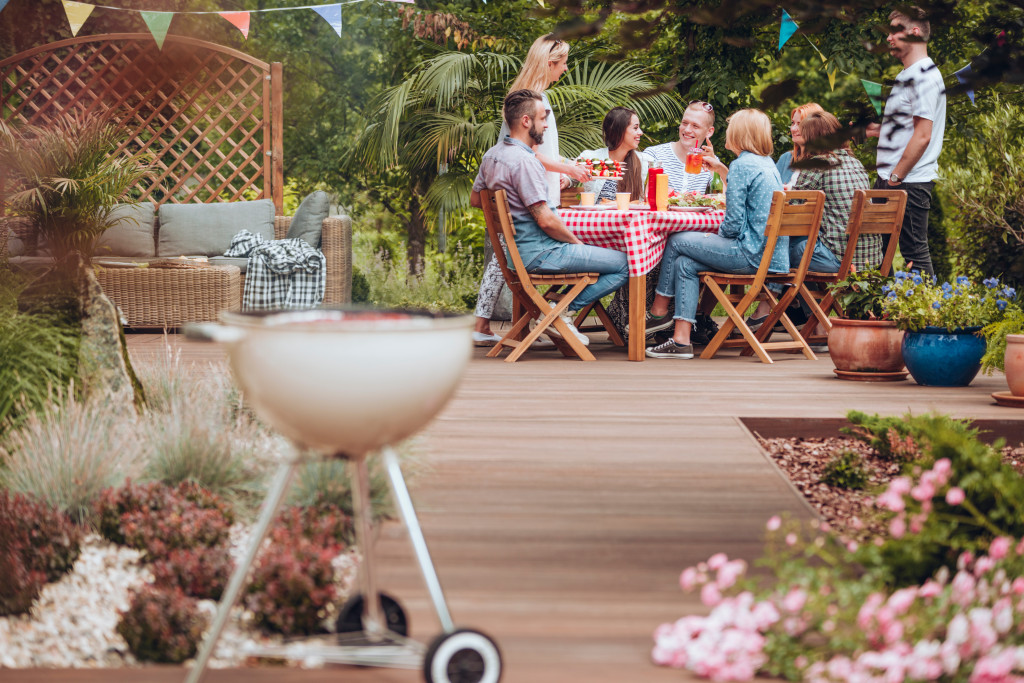 A Well Water System
Having a well water system can be incredibly beneficial for homeowners. Not only does it give them access to clean and natural water, but it also helps save money on their water bills. Furthermore, having a reliable water source can be great for those who live in rural areas or areas with limited access to clean water.
When it comes to installing a well, several factors need to be taken into consideration. The size and depth of the well will affect its cost and performance. You should also ensure that you have all the necessary equipment for proper operation. This includes a water well pump, water softener system, water pressure switch, and a water filtration system. These are necessary to ensure the water is safe to drink and use.
Installing a well can be quite costly, so it is important to carefully evaluate your options before making any decisions. Once everything is in place and the well is installed, regular maintenance will help keep it functioning properly.
A Well-Designed Deck or Patio
Another valuable addition to any home is a deck or patio. This gives homeowners a place to entertain guests or relax outdoors. Functionality should be the top priority when designing a deck or patio. Choose a material that's durable and easy to maintain, like composite wood or concrete. Ensure the design is attractive yet practical and blends in with the rest of the house.
Adding a deck or patio can add an average of 70% return on investment. It provides a great area for entertaining guests while increasing your home's value. Consider using an L-shaped or U-shaped deck to maximize space if you have a small area. Adding decorative elements, such as benches or planters, can also utilize the space. This will enhance the look and feel of your outdoor space, making it a great place for friends and family to gather.
These are just some of many outdoor features that can add value to a home. When evaluating a property, consider these as they can affect its overall worth.