The holiday season is a great time to plan a corporate trip. Not only do many businesses slow down at this time of year, allowing employees to get away, but the holidays are also an excellent opportunity to bond with co-workers and build team morale. Look no further if you're looking for ideas for where to take your corporate group this holiday season. From festive markets to winter sports, there's something for everyone on this list.
1. A festive market.
What better way to get into the holiday spirit than by taking a trip to a festive market? There are markets worldwide that come alive during the holidays, from New York's iconic Bryant Park Winter Village to Dresdner Striezelmarkt, the oldest Christmas market in Germany. No matter where you're located, there's bound to be a festive market nearby that your corporate group will love.
When bringing employees to a festive market, be sure to schedule some time for everyone to shop, snack on local food specialties, and take in the sights and sounds of the season. Give each employee a budget to purchase some souvenirs and holiday decorations for their own home. If you're feeling extra generous, you can also treat everyone to a cup of glühwein (mulled wine).
2. A saltwater fishing adventure.
For those who love to fish, a saltwater fishing adventure could be the perfect holiday corporate trip. Head out with a charter boat and your colleagues for a day of fishing on the open sea. If you're lucky, you'll catch some fresh tuna or mahi-mahi for dinner. Employees will appreciate the camaraderie of a day on the boat, and it's sure to be an experience they won't forget.
Make sure to have the right equipment on hand. Expert fishers use surf spinning rods, an unconventional type of rod that takes advantage of the waves and currents to bring bigger catches. If you're not sure what type of rod to use, don't worry – experienced fishing guides are available to help. Ask your charter company if they offer any specials or discounts for corporate groups.
3. A winter sports resort.
If your employees are looking for a more active holiday corporate trip, why not take them to a winter sports resort? From skiing and snowboarding to ice skating and sledding, there's no shortage of activities to keep everyone entertained. And after a long day on the slopes, they can warm up in one of the resort's many restaurants or bars.
Team-building activities can also be arranged at many winter sports resorts. Try a group snowshoeing, cross-country skiing tour, or even an ice-climbing or snowmobiling excursion. Don't forget to bring extra warm clothing and equipment – employees will need them to stay comfortable while they explore the resort. You can also consider offering employees a discount on ski or snowboard rentals if they're new to winter sports.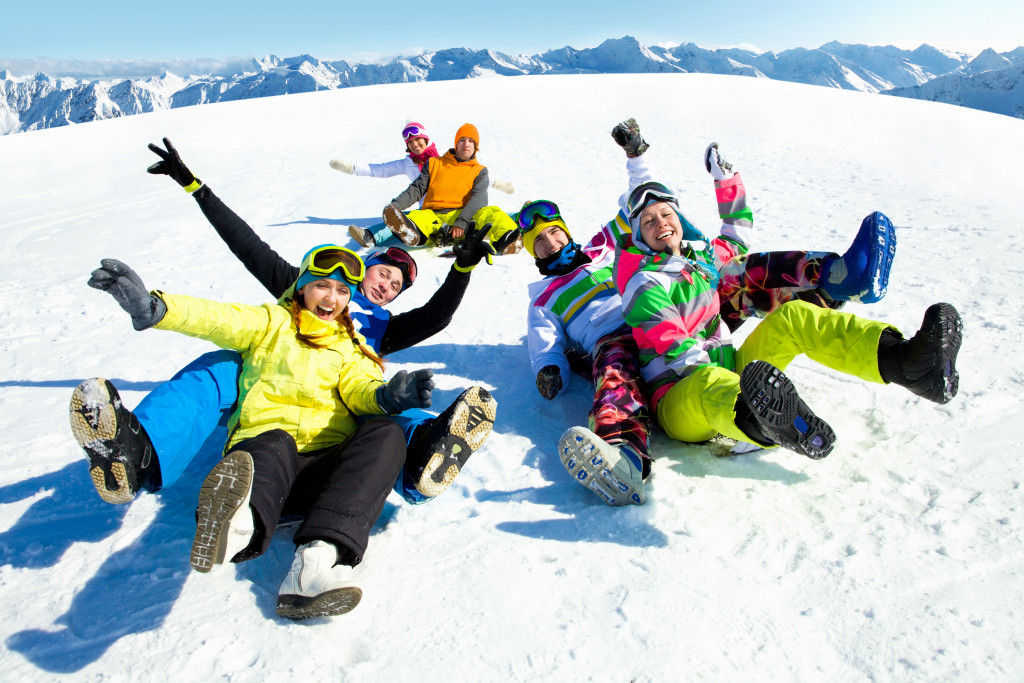 4. A beach vacation.
Just because it's cold outside doesn't mean you can't enjoy a beach vacation. Many beach destinations are even more beautiful during winter when they're blanketed in snow. If you're looking for a unique corporate trip idea, why not consider visiting one of these beautiful winter beaches?
Your corporate group will love spending time in the sun and sand. You can organize beach activities like sandcastle-building competitions, kayaking or whale-watching tours, and more. And after a day in the sun, they can relax with a cocktail by the fire pit or take a stroll along the beach to watch the sunset. Don't forget to bring plenty of sunscreen, hats, and sunglasses!
5. A city sightseeing tour.
A more urban option for corporate trips is a city sightseeing tour. You can take your group to some of the most iconic cities in the world, from Paris and London to New York and Barcelona. As you explore each city, your tour guide can offer insights into the history and culture of the place. This is a good way to get your employees acquainted with a new place and ensure they don't miss out on any must-see attractions.
For something extra special, consider transforming your corporate trip into a scavenger hunt. Ask your tour guide to create some clues or riddles for the group and give them prizes for completing each task. Everyone will have a great time exploring the city and trying to solve the clues. So if you're looking for an exciting new way to enjoy a sightseeing tour, this could be the perfect activity.
No matter what kind of corporate trip you're looking for this holiday season, you can find a great option on this list that your group will really enjoy. There's something for everyone, from festive markets to winter sports resorts to beach vacations. So start planning your trip today and make this holiday season one to remember!